Community Development + Empowerment Series 2018
140 South Dearborn, Suite 1420
Chicago, IL 60603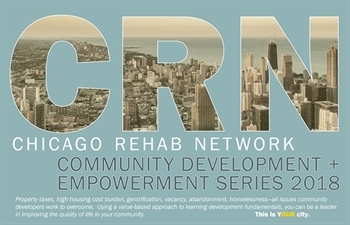 CRN's annual training series is designed for staff and board members of community-based affordable housing development organizations, government employees, community bankers, small neighborhood developers, and elected officials and their staff. As a participant in each workshop, you will learn technical development skills, discuss strategies for community empowerment and reinvestment, and share your experiences with others in the field.
Questions? Call 312-663-3936 or email rachel@chicagorehab.org.
Certificates will be awarded to those who attend all eight workshops.
Workshop enrollment is limited and CRN reserves the right to prioritize slots for nonprofit organizations.
Non-profit organizations: $1,400 for Full Series | $200 per 2-Day Workshop
Other organizations: $1,800 for Full Series | $250 per 2-Day Workshop
Unless otherwise noted, each workshop will take place 9:00 am–4:30 pm.
Events in this series