If you missed our 2021 Summits, email info.cso@chicagorehab.org to be notified of our upcoming workshops.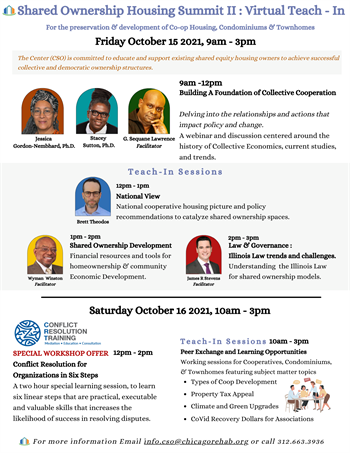 WHY SHARED OWNERSHIP With an inventory of over 14,000 shared equity units in Chicago and over 500,000 condo owners in Illinois, we are independent place offering technical assistance and training necessary for successful governance, operations, and sustainable planning of this housing stock. This common interest housing stock also consists of market rate co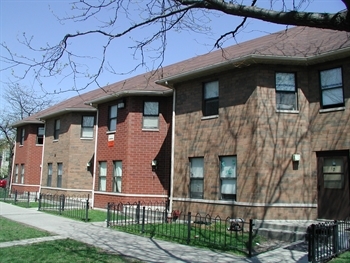 operative buildings, HUD-assisted and rent subsidized cooperatives, and several dozen independent coops combining communal and affordable living. Meanwhile, Chicago has a continuing shortage of affordable housing, at a staggering 120,000 units. Catalyzing shared equity development can be one solution to address this shortage by reducing living expenses for participants and providing a wealth generator for households that want an option beyond traditional renting.
---

WHO WE ARE The Center for Shared Ownership is a collaboration between the Chicago Community Loan Fund (CCLF) and the Chicago Rehab Network (CRN) to provide the leadership, training, and technical assistance to preserve and expand the stock of shared equity housing. CRN and CCLF have over six decades combined of championing affordable community and economic development for Chicago neighborhoods.
Many Chicago communities – disproportionately low-income communities and communities of color – have yet to see a full recovery to housing values hit by the housing market crash of a decade ago. Many face ongoing disinvestment and displacement, leading us to develop a bulwark of training and technical assistance to address the potential for default or displacement. Housing values, which have been hit significantly in both rural and urban communities, demonstrate this disparity: over 90% of White households' value now exceeds their pre-recession value; yet just 30% of Black and Latino communities have seen a recovery to 2009 home values. Across the region, the dire need for affordable housing is shaping the geography of opportunity. Without stable, affordable housing, families must forego necessities like food and healthcare to pay rent and are more likely to face health challenges and lack job security.
Reasons vary for this steep loss of equity among minority households: predatory lending, biased mortgage policies, foreclosures and short sales, even contract buying in neighborhoods like North Lawndale. Some households faced expensive repairs, mounting tax burdens and mortgage resets via adjustable rates that consumed household income. Embedded in communities is the very real existence of the current stock of shared equity housing options, and moreover, a growing interest to develop new sites of shared equity housing to enable communities to retain their residents and offer community wealth building and personal stability. As evidence for the stability provided through shared equity housing options, the US Housing crash of 2009 damaged markets throughout the Nation. Not one co-op was foreclosed on during this period.
---

WHAT WE DO The Center for Shared Ownership works to:
Build awareness of general public and decision makers on the benefits and strategic viability of shared equity models, principles, and opportunities.

Educate and support existing shared equity housing owners to achieve successful collective and democratic ownership structures.

Provide a central place for the ideation and formation of new shared equity communities as a viable and economical form of homeownership.

Connect experienced professionals with citizens, sponsor organizations, and/or shareholders who are looking to move forward related advocacy and shared equity real estate projects.