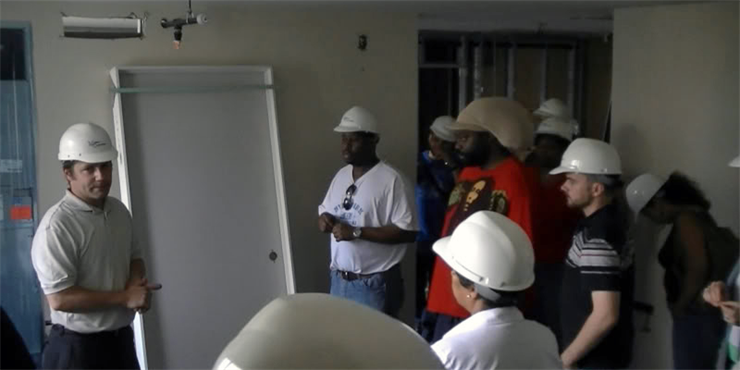 Practical Tools and Real-World Knowledge
CRN's 2020 series of award-winning community development workshops
Learn to be a leader in improving the quality of life in your community. CRN's Community Empowerment Workshop Series uses practical tools and real-world knowledge of practitioners to teach you how to effect positive change in communities through housing development. Offered annually, the training series is designed for staff and board members of community-based affordable housing development organizations, government employees, community bankers, small neighborhood developers, and elected officials and their staff.
Graduates of the series receive a certificate of completion that is well-known and respected by community development and affordable housing practitioners and advocates.

Registration for the 2020 Community Empowerment Workshop Series is still open. If conditions change, the Chicago Rehab Network will be in contact with registrants.
One two-day workshop is held every month, April-July and September-December, 8:30 am–4:30 pm at CRN's training facility, 140 S. Dearborn, Suite 1420 (unless otherwise noted).

Fees
Register for the full series or individual workshops.
Full series (eight workshops)
$1,400 nonprofit / $1,800 for-profit
Individual workshops
$200 nonprofit / $250 for-profit
Workshop enrollment is limited and CRN reserves the right to prioritize slots for nonprofit organizations. If you have difficulty with online registration, please call 312-663-3936 or email Rachel Johnston: rachel@chicagorehab.org
---
About the 2020 Workshops
Property taxes, high housing cost burden, gentrification, vacancy, abandonment, homelessness—all are issues community developers work to overcome. Using a value-based approach to learning development fundamentals, you can learn to be a leader in improving the quality of life in your community for renters and owners through housing. You'll learn technical development skills, discuss strategies for community empowerment and reinvestment, and share your experiences with others in the field.
---
Community Building
April 29-30, 2020
Instructor: Joy Aruguete, Chief Executive Officer, Bickerdike Redevelopment Corporation
The first in the series, this workshop will present the community assets perspective as a model for community planning. Through looking at strategies employed by community-based development organizations, we will discuss the elements beyond bricks and mortar that community building requires. Day two includes a tour of affordable housing developed and operated by CRN members.
---
Finance Skills for Real Estate
May 7-8, 2020
Instructor: Maurice Williams, Vice President of Economic Development, Chicago Community Loan Fund
Technology can enhance your organization's ability to operate efficiently in today's challenging market. Learn housing finance concepts, how to compute financial calculations on the HP-12c, and how to use spreadsheets to create development proformas.
---
Proforma Development
June 18-19, 2020
Instructor: Maurice Williams, SVP at Chicago Community Loan Fund
Understanding principles of real estate development and finance is critical to maintaining the long-term affordability of your project. In this session, learn to create development proformas, income and expense statements, and cash flow analyses. Emphasis will be placed on structuring projects with tax credits, grant funding, and public funds.
---
Sources of Development Financing
July 16-17, 2020
Instructor: Yittayih Zelalem, Co-Director and Research Assistant Professor, Nathalie P. Voorhees Center for Neighborhood and Community Improvement
Developing affordable housing is a challenging process that requires the layering of financing to achieve the goal of affordability. This workshop will familiarize participants with the mechanics of securing development capital, debt and equity financing, grants and subsidies.
---
Single Family Housing Development
September 10-11, 2020
Instructors: Teresa Prim, President, Prim Lawrence Group; Linda Greene, Lucas Greene Associates
The process of developing single family housing will be discussed both in terms of the technical skills involved, and in terms of maximizing production to meet community needs. Assembling the development team, acquiring property, securing financing, and marketing will be examined in detail.
---
Multifamily Housing Development
October 15-16, 2020
Instructors: Teresa Prim, President, Prim Lawrence Group; Linda Greene, Lucas Greene Associates
Multifamily housing development will be discussed as one tool for creating community-based affordable housing. The development process, acquisition, sources of financing, development team, and legal issues will all be discussed.
---
Project and Construction Management
November 19-20, 2020
Instructor: Angela Hurlock, Executive Director, Claretian Associates
Creating quality affordable housing requires knowledge of construction that includes knowing how to choose a project team, how to manage contracts, and how to closeout the project. Day two includes a tour of active affordable housing construction sites to test concepts in the field.
---
Property and Asset Management
December 3-4, 2020
Instructor: Eleazar Vazquez, Property Supervisor, Hispanic Housing Development Corporation
This course will review the key aspects of the property management of subsidized housing. Focus will be given to marketing and lease up, accounting, asset management, fair housing laws, maintenance, capital improvements, and resident services.