Hervenia's Retirement Party
Thursday, February 20, 2020, 5:00pm–8:00pm
1530 S State St
Chicago, IL 60605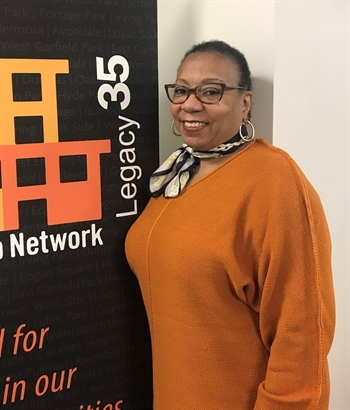 Office manager Hervenia Mitchell will be retiring at the end of January. She has been a key team member of the Chicago Rehab Network for over 26 years. Her contributions, commitment and consummate care of her colleagues, CRN members and our mission of affordable housing, have been a valued part of CRN's success.
Join the CRN Board, staff, and members as we thank Hervenia for her years of service to ensure that community development without displacement continues to be a key principle in our work. We will gather on Thursday, February 20, 2020 at Tapas Valencia to honor her and share our gratitude.
Hervenia's career is long-standing in community service.
Before coming to CRN in 1993, she was at Rogers Park Community Action Network for 8 years. We will miss her, but wish her the best as she moves to this next journey in life! Hervenia is looking forward to spending time with friends and family and traveling during her retirement.
Help us celebrate her successful career and wish her well at Tapas Valencia on Thursday, February 20 from 5:00 to 8:00pm!